Homelessness Photo Essay Photographers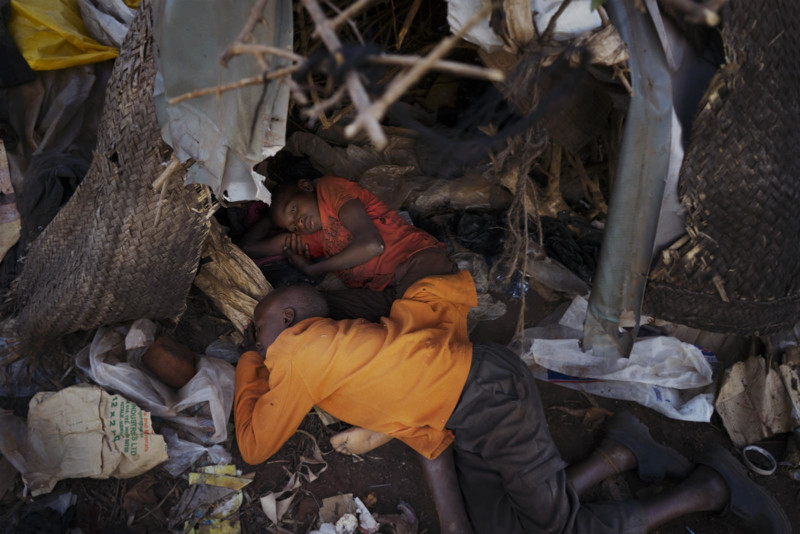 It's five o'clock in the morning, and a cold mist lies upon the small Kenyan town of Kitale. Only if you walk around the empty town at the break of dawn will you notice the part of life that society is hiding. On cold, concrete floors, all over the city, lie hundreds of children fast asleep.

Their skinny bodies are covered in plastic bags or blankets as they sleep right next to each other to escape the cold and rigid nights. As the first rays of light are sipping through the trees the town is slowly awakening. Some children are running into the damp and misty fog while a young boy brings out an old t-shirt and starts cleaning up the children's urine and dirt from the concrete floors.
There is a silent agreement with the city dwellers, that the street children are allowed to sleep on the cold floors of the town, as long as every trace of them ever being there is erased in the morning. Nobody wants to know where the homeless children sleep at night.
They are forgotten by people. Ignored in social debates. Through police raids they are forced to their deaths. The homeless children are a common sight in the modern Kenyan society. During the 20 years I have been travelling between Kenya and Finland the number of street children has increased rapidly. Today, I find them in the smallest of cities, including the village I grew up in myself.
My name is Sofia Jern. I am a Finnish photography student at UAS Novia in Finland. In April 2016, I had the honor of accepting a Sony World Photo Award when winning the Student Focus competition with my photo series "Glue Boys". The past year I have repeatedly returned to Kenya, my second home. I have spent my days and nights documenting the lives of the street children in town of Kitale.
I felt like flipping a coin when deciding to pursue a career in photography. It is safe to say that it was a passion of mine, but that is not why I chose it. Photography is my way to communicate inequalities, or in this case, give the street children of Kitale a voice.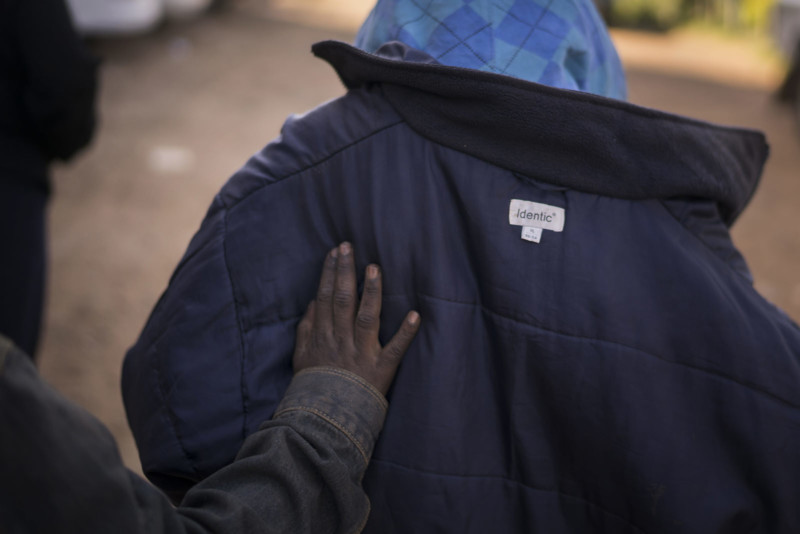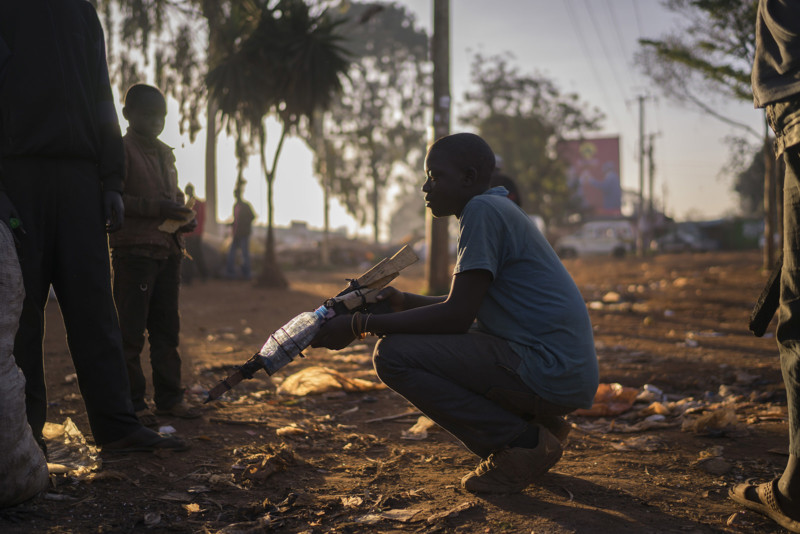 In Kenya, there are 250,000 to 300,000 children living and working on the streets. The use of psychoactive substances, or in this case glue fumes, among street children for survival has been a prevalent problem in most urban centers in Kenya. This is also why they are called the Glue Boys.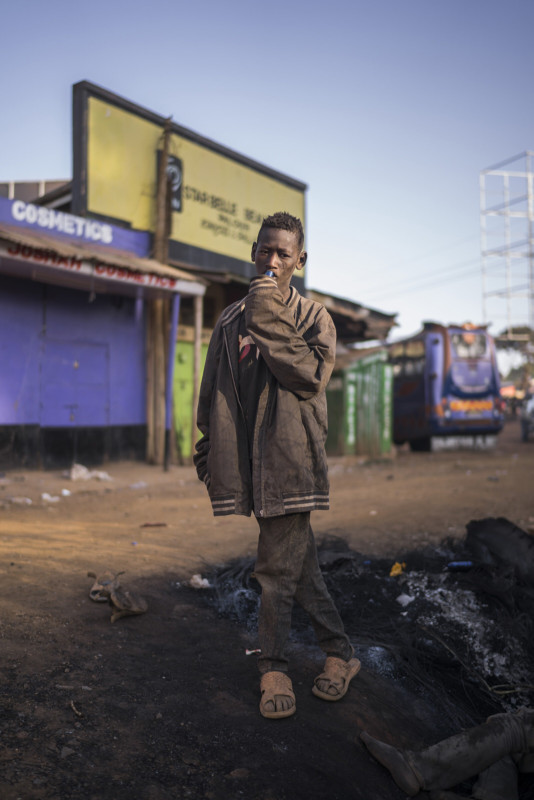 Street children is a global phenomenon. In Colombia they are called 'mariginais' (criminal), in Rio de Janeiro, 'polillas' (moths) in Bolivia, 'bui doi' (dust children) in Vietnam, 'saligoman' (nasty kids) in Rwanda, 'moustiques' (mosquitos) in Cameroon and 'chokora' (garbage picker) in Kenya. I know them by the name 'glue boys'.
Most street children reflect an image of misery, suffering and neglect. They are viewed by society as being dirty, dangerous, unhealthy thieves and so are consequently treated with apathy and disgust. The social stigmatization directed at street children is based on their appearance.
But the children I met go under the name Shidriki, Kevin, Brian and Shadrak, and I can not ask this question enough: who will take care of you?
---
About the author: Sofia Jern is a photographer based in Finland. Having grown up in Kenya, she became aware and interested from an early age in the issues of social inequality and human rights. You can find more of her work on her website.
Tags: documentary, glueboys, homeless, homelessness, inequality, kenya, kitale, photoessay, socialjustice, sofiajern
SYNOPSIS
Vancouver's Downtown East Side is a place notorious for it's residents who live below the poverty line in a city twice voted "the worlds most liveable" by the Economist Magazine. Statistics for the suburb include an AIDS rate estimated at 30% and the leading cause of death as overdose. Addiction is the core problem causing women to sell sex in order to meet subsistence needs such as food and shelter. Living conditions are sub-standard with the norm consisting of small single room accommodations that are ridden with bed bugs and multi resistant Staphylococcus.
The media regularly makes rounds on the Downtown East side but it only serves to stigmatise the people. It is easy to forget that this is a real suburb home to real people who are suffering devastating loss of health and quality of life due to addiction.
ESSAY
During my time in Vancouver, Canada, I decided to pursue a personal photographic project documenting the lives of residents in the Downtown East Side. Having started my career studying Social Work, this suburb of Vancouver was instantly of interest to me because it is a microcosm of visible social ills. These include but are not limited to: extreme poverty, homelessness, addiction, prostitution and an AIDS rate estimated at over 30%.
The Downtown East Side (DTES) is Canada's poorest postal code. According to research done by the Real Estate Council of BC the average income for a resident of the DTES is $8735 per anum. This is around half of what the Canadian council for social development cites as the poverty line. Those that have accommodations live in single room occupancy's (SRO'S). These are sub standard hotel or rooming house style buildings that are rife with rodents, bed bugs, staphylococci and blatant breaches of safety regulations. Those that can't afford at least this are left to add to the homeless numbers that are estimated to grow to 5000 persons by 2010.
A study by "The Tyee" concluded that the DTES has North America's fastest growing homelessness crisis. This is the result of a myriad of problems. Most prominently there is gentrification of the DTES due to its close proximity to the Downtown core and development for the 2010 Olympics. Warmer weather than much of Canada draws the homeless, teen run-aways and vagrants to the area where it is more comfortable to survive on the street. Additionally, a relaxed policy on drugs has created tolerance for an open-air drug market making the area a destination place for addicts and homeless people desiring easy access to cheap drugs.
Addiction is surely the most obvious problem in the DTES. According to the PIVOT legal Society in Vancouver there are over 5000 injection drug users living in the ten-block radius. The leading cause of death is overdose and 1/3 of the population is addicted to illicit drugs. This high rate of addiction contributes to the area's incredibly high crime rate. The government is experimenting with harm reduction techniques and new ways of thinking, such as dealing with addiction as a public health issue rather than a criminal one. A safe injection site (the only one in North America) is one such technique in practice in the DTES.
With an AIDS rate at 35%, rivalling that of Botswana, it is obvious that we need to start thinking outside the square. Needle exchange programmes have proven to be an effective tool for reducing the spread of HIV, although it is commonly women who sell sex in order to meet subsistence needs such as food and shelter that are affected by this horrific disease. Hepatitis C is recorded at 90% of the population of the DTES. The media regularly makes rounds of the DTES, but it only serves to stigmatise the people. It is easy to forget that this is a real suburb and home to real people, who are suffering devastating loss of health and quality of life.
A formal complaint regarding conditions in the DTES has been put forward to the United Nations by Michael Byers, a University of British Columbia professor. The United Nations Human Rights Council is expected to take two years to hear and study the complaint. But one look at this truly desperate and squalid section of society is all it takes to know that something is tragically wrong. As Mahatma Gandhi said " The best test of a civilized society is the way in which it treats its most vulnerable and weakest members".