Fun Reading Homework Activities
Please welcome Gina of Beach, Sand, and Lesson Plans!  She shares with us today a pretty snappy way to handle homework that's fun for everyone.  She included a great freebie that you'll want to download and rate for sure!  Thanks for sharing this great, idea Gina!
Hi everyone!  I'm Gina from Beach, Sand, and Lesson Plans, and I'm thrilled to be a guest blogger here on Minds in Bloom. Thank you to Rachel for giving me this opportunity!
Homework has always been one of those things I struggle with. I don't want to give students homework for the sake of giving homework.  It should be very relevant to what is happening in the classroom. I think kids and families are extra busy these days. Parents are working hard. Kids are involved in sometimes several after-school activities.  I want their time at home to be well spent. Homework doesn't have to be long and tedious for it to be valuable. With that said I'm super excited to share a reading homework idea that I have started to use this year in my 3rd grade classroom. I think you will find it gives students the opportunity to work with text in a meaningful way.
Assigning the traditional reading passage with multiple choice questions at the end–your basic test prep-type packet–was something I have been wanting to get away from. Along with a teammate, we developed what we call the Reader's Think Book. (A simple spiral notebook works just fine.) In this notebook students work with one passage all week (3-4 nights). Passages will vary, depending on skills and strategies we are working on in class. Genres will also vary. We will assign literature, informational text, poetry, or excerpts from longer pieces of text. Later in the year, we will assign two passages on the same topic or by the same author, and students will work on comparing these.
To set up the notebook, I had the students glue a general directions page on the inside cover. On the first page, they glued in the "cell phone" text codes. These are simple symbols the students will use when responding and coding the text. We tried to create some "fun" codes that kids could relate to, like LOL or OMG.  The codes on the left are for informational text, and the others are for literature.
Since we knew our students might have very little experience coding text, we decided to start with a model and a think aloud. We found some passages and created posters. We also created a poster of the text code phones. I gathered my students on the carpet and read the piece to them as I coded. I was sure to tell them my thinking and my reason for the code I chose.
The second night's assignment was to highlight new or interesting vocabulary, and my lesson in class was to model this activity. The third night I asked the students to come up with a title and to illustrate a picture to go with the text. Together, we worked on a title that made sense for the modeled piece.
(Above is another passage I used for modeling.)
Here are some of my third graders' completed homework assignments in their Reader's Think Books. I love the variation on titles and illustrations. They did some very thoughtful work.
Each day I was able to check their homework easily to see that it was completed. As I checked their notebooks more closely, I called each student over and asked a question or two about the work they did. For example, I asked: Why did you highlight this word? Do you know what it means? Why is this part your favorite? Tell me about your illustration. How does your title fit the story?
Asking these kinds of questions gives me a very quick formative assessment opportunity. These will be a valuable tool in reading conferences and a big help in setting reading goals with my students.
As the year progresses, tasks that I assign them will get more complex. There may be times we work with the vocabulary they highlight, maybe choosing words to put on their personal word walls in their reader's notebooks. I may choose two pieces of text on the same topic or by the same author that they will need to compare. The levels of the passages assigned can even vary from student to student, giving you a way to differentiate assignments.
Where do we get the passages? They can come from any source you may have on hand, but so far we have selected passages from ReadWorks. At this site you are able to select passages based on Lexile level, grade level, and/or skill and strategy.
If you would like a copy of the directions and text codes I used for FREE, click HERE.
I hope you find this a valuable homework task for your students!
---
I am in my 25th year of teaching, and I love every new year!  I have taught 2nd, 3rd, and 4th, with my most recent years in 3rd. I am a native Floridian, married to a 5th grade teacher, with two of the most wonderful kids anyone could ask for! Get to know more about me at Beach, Sand, and Lesson Plans on Facebook, Pinterest, and Instagram.
Like this:
Fourth grade is the big leap from little kid to big kid. It's a year of great strides academically, socially and emotionally. Taking on fourth grade this year? We've pulled together 50 of the best tips and tricks for teaching 4th grade from real teachers on our Facebook Helpline and around the web. Check it out.

1. Create a classwork group wheel.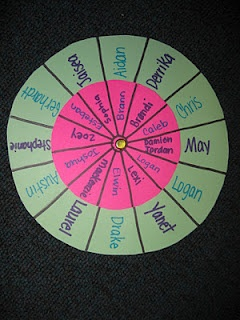 A chance-wheel for masterful groupings.
This group wheel is fun for students and teachers alike. Separate the kids who might not work well together by putting them on the same wheel, but keep the element of surprise by having a different combination for each partnering.
From Fabulous Fourth
2. STOP! (In the name of class!)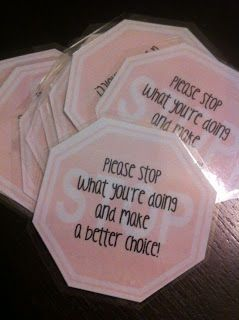 We love this method of letting a student know his behavior is off-task—without interrupting the flow of the lesson. Hand one of these to a student who needs a reminder to focus and you'll be in the clear. Click here for free printables from Rock and Teach to make your own!

3. Practice math skills with the most mathematical icebreaker ever.
This is a great first-day-of-school activity that doubles as both an icebreaker and a math review of last year's skills. Students create a poster of math equations representing different aspects of who they are, and then they can get to know each other by solving the problems. Bonus: You'll have instant wall art for Back-to-School Night! – From Fourth Grade Fun in Florida
4. Reinforce prime numbers with a fun card came.

Prime numbers become instantly cool when you use them to win this card game from Education.com! Download the activity for free here.

5. Play Behavior Bingo.
Your fourth graders will love working together to achieve five in a row! Bingo rewards might be extra recess, watching a short video, solving a riddle or puzzle, or an ice cream party. This behavior management tip for teaching 4th grade comes from Fourth & Ten.
6. Try social studies inquiry circles.
Address the required standards through inquiry-based learning! Here's a how-to guide from the One Stop Teacher Shop. Watch your kids sink their teeth into the "thick versus thin" concept, and the Work Plan Form will help students take control of their own learning.
7. Learn about area and perimeter with robots!
How fun are these 'bots? Students apply their understanding of area and perimeter by creating different robots based on mathematical specifications provided to them. Here are some more tips about teaching area and perimeter.

8. Use technology for formative and summative assessments.
The WeAreTeachers HELPLINE! community weighed in on the best digital assessment tools. They love: Class DoJo, Turning Point Clicker Systems, Plickers, Socrative, and Quizizz. Ditch the traditional paper-and-pencil testing for online quizzes and tests you can create and automatically grade through these sites.
9. Write a double journal.
Encourage your students to think beyond the literal in their reading by writing a double journal. Textual bits go in the left column, and the student's reaction to the text goes in the second column. If you want to take this to the next level, add a third column for a peer to read and share a response to the student reaction. —From The Teacher Studio
10. Read to them every day!
They still love listening to stories in fourth grade! Here are some top book series you can really dive into all year long.
11. Use paint chips to inspire sensory poetry.
Let color work its inspiration for your fourth-grade poets. —Fabulous in Fifth
12. Check homework, three ways …
1. "Pick what's most important about the lesson, not the small details, and grade that way. Don't worry about spelling or grammar. The important thing is, did they understand the content?" —Megan P.

2. "For my gradebook, students receive credit for returning homework completed. I go around and mark them off, then I put the answers up and students correct it themselves. I then go over any problems that the students request for me to explain." —Montoya M.
3. "I have a box of clothespins with each kid's name on them. They clip their pin to their homework and drop it into the homework file up front. It's easy to tell who didn't hand in homework because you just take a glance at the remaining clothespins! I set a two-minute timer for them to complete this so it doesn't take too long, and my fourth graders do it in no time! You just have to practice and train them. Make a game out of 'beating the timer' without pushing or shoving." —Jamie S.
13. Out with boring worksheets! Engage your fourth graders with:
"Thinking maps that students create." —Aimee V.
"Brain-based activities and games. Look up LaVonna Roth for a start." —Joy W.
"Foldables. Check out Dinah Zikes for ideas!" —Dianne K.
"Interactive notebooks!" —Shanna J.
14. Create classroom jobs for your students.
Here are some creative ideas from our teacher community: tech support, environmental support, organizer, textbook coordinator, sanitation engineer, librarian, substitute, chief in charge, messenger, paper passer, supply clerk, IT technician, human resources officer, administrative assistant, waste management.
15. Showcase students' math skills with awesome foldables.
Percents, fractions, and decimals, oh my! Students can both practice and highlight different conversions with this foldable activity from The Teacher Studio.
16. Make big plans!
We love this start-of-year activity from Write On, Fourth Grade! Start by reading Big Plans by Bob Shea and Lane Smith. Then on construction paper, have students create their own plans for fourth grade, for their school career, and for adulthood. Hang 'em up and label the wall "Our Big Plans!"
17. Establish an anti-bullying culture from day one with resources from Kid Pointz.
Download free and kid-centric anti-bullying printables from Kid Pointz to help your students understand the importance of avoiding peer pressure and handling bullies constructively.
"I also went to the dollar store and got these cute little 'pledge' cards that kids can sign at the beginning of the year to pledge that they won't bully each other and will report bullying when they see it. It's a great way to start the year!" —Jen B.
18. Pick a fun theme for your classroom.
"'Science is Outta This World'! Do a space theme with rockets above different locations you are studying, a mad scientist mixing up a potion and vocabulary words coming out of the smoke puffs!" —JohnnaM.
"The Jungle works for so many subjects, like life and how things change in time." —Liz H.
"What about 'Your World Matters'?" —Mindy J.
"The Rainforest!" —Ann M.
"'Heroes All Around Us' with monthly featured 'heroes,' both famous and local." —Ashley M.
19. Set up interactive, exciting centers in your classroom.
Having centers, or workstations, in your fourth grade classroom allows students to work independently.
"When introducing a new independent activity, I usually do it in small groups first, so when put in the independent stations, they are able to do it without my help." —Carol V.
"I have center folders that students keep their work in, and at the end of the cycle of centers, I grade the work as 100, 80, or 60 based upon what's done and the quality. I give one center grade for each cycle." —Gary F.
20. Spice up student writing with an adjectives anchor chart.
Variations on this might include brainstorming adjectives with students, or brainstorming exciting lists synonyms for specific, basic words, like "big," "small," "good," and "bad." This anchor chart comes from Confessions of a Teaching Junkie.
21. BEAM us up, Scotty!
The BEAM phrase "Be Excited About Math" doubles as "Buddy Games, Exercises for your Brain, Articles & A.R., and Multiplication & Manipulatives." Students complete activities from each station intermittently to keep things interesting and varied. Get more info on BEAM here.
22. Review fractions with Skittles.
Check out this fun lesson from Teacher's Notebook to "review some key fraction concepts including fraction of a set and comparing fractional amounts—key elements in the Common Core." Bonus, you get to eat the leftovers.
23. Improve home-school communication with Remind.
"There's a great app called Remind that parents and students can download on any smartphone or computer. I would send out messages on Sunday evening letting the parents know what lessons were for homework and when the test was scheduled. You send it as one message to all parents and students who have the app downloaded. It shows all the names. If there's something you want to communicate to only one parent, you send to that parent. It's a fabulous way to stay in touch!" —Pamela D.
24. Play fun online games to reinforce math concepts.
This giant list of math websites should be bookmarked on your computer! It's full of free online math games perfect for transitioning between lessons, a reward for good behavior, or a wrap-up activity for a math lesson!
25. Go digital with work submission to make things easier (yay, no more hauling hundreds of papers to your car every Friday)!
"I use Google Docs for writing assignments. It works really well. Students can use any device at home or school. I can give them suggestions for editing." —Sherrie R.
"I love my Google Classroom! I was able to differentiate lessons and assign students independent work at specific ability levels." —Suzy K.
"I use Flubaroo to grade forms." —Stephanie L.
"I use Edmodo. It's web-based." —Sonequa B.
"My coworker uses Schoology for online grading, and it's pretty simple to use." —Melinda S.
"Try Gooru. It connects to resources in your drive, and it's completely free." —Laurie A.
26. Provide a visual for paragraph writing.
Your fourth graders will sink their teeth into this anchor chart! From Smiles and Sunshine.
27. Establish classroom community in the first days of school with heart maps.
Your fourth graders can express what matters most to them by illustrating and writing in these heart maps. Download a free template from Fourth Grade Lemonade.
28. Never hear the words "I need a pencil" again!
"Here's my solution for the disappearing pencil phenomenon! Every child has two of their own duct tape pencil design and their number on them. One stays at their desk and the other sits in a numbered 'ready' pencil holder (wood block with drilled holes to hold 28 pencils). When the one they use becomes dull, they trade it for the 'ready' one. Nobody shares pencils and pencils that roll onto the floor are easily identified by their design and number. So many whining bouts that no longer occur: miracle!" —Trisha M.
29. Affirm them daily.  
We love this idea of leaving positive sticky notes for kids every day to encourage them and let them know you're behind them 100 percent!
30. Make a class time capsule.
At the beginning of the year, have the students write down their thoughts, expectations, goals, feelings, and predictions. Put them all in a decorated jar, seal it up, and then read them all in the last week of school!
31. Teach author's purpose with a fun PIE anchor chart.
Whether an author is persuading, informing, or entertaining, students will learn the types of purposes with this delicious poster.
32. Help students visualize pronoun usage with this handy chart.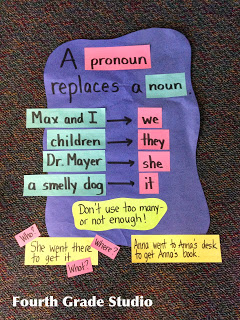 You can also use it to prompt on-the-spot exercises, like writing their own examples of words that would be replaced by particular pronouns.
33. Teach the difference between literal and figurative meanings through writing and drawing.
Take sentences from your class's current text that use figurative language and have students (literally!) illustrate and explain the difference in the literal and figurative meanings of the expressions.
34. Invest in an electric three-hole punch.

You're welcome.
35. Teach students the art of note-taking.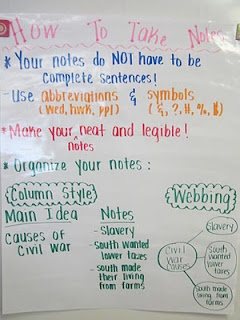 Fourth grade is a wonderful level for students to begin taking their own notes. Using a handy anchor chart will help remind them of the different approaches to note-taking they can use.
36. Learn how electricity works with this Potato Power experiment.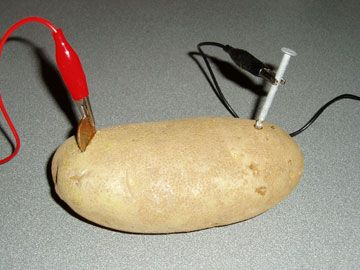 37. Need a writing prompt? How about 73?!
Journal Buddies has 73 fourth grade writing prompts just for your kids.
38. Conduct common core-aligned fourth grade science projects.
This site offers a chart of fourth grade common core science standards with links to related activities and web tools. Lesson planning, DONE!
39. Take a brain break.
These quick activities take just three minutes each and give kids the chance to recharge between academic activities. A little palate cleanser goes a long way!
40. Remind students of appropriate hallway etiquette with this handy-dandy acronym poster.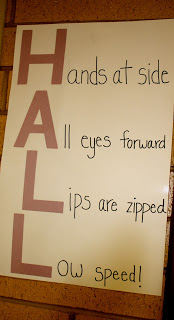 41. Keep your students linked into the big picture of the lesson
We love this kid-friendly version of a teacher's lesson plans. Put day-specific "Today I am…" "So that I can…" and "I'll know I've got it if…" posters on your board.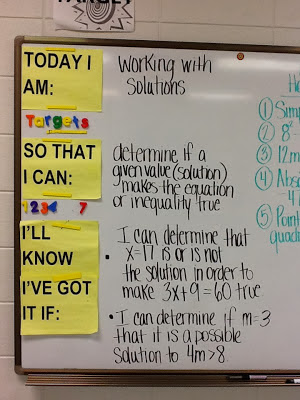 42. Teach apostrophe usage with a strong visual.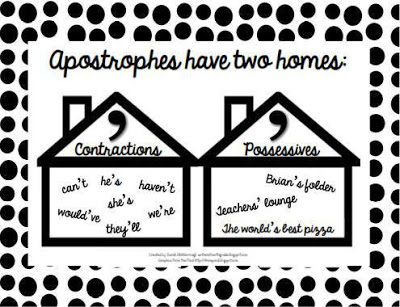 We like this one from Write On, Fourth Grade!
43. Teach the difference between tone and mood with this helpful anchor chart.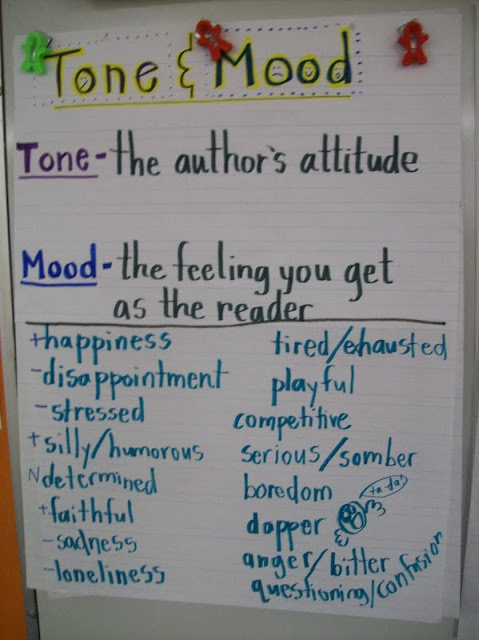 Practice applying the definitions by reading passages in class and asking students to identify the different tone and mood in each passage.
44. Review vocabulary definitions with this simple muffin tin game.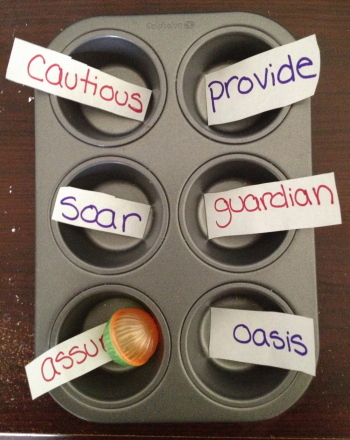 Make reviewing fun with this interactive game! Download the activity for free here.
45. Check out these book recommendations for fourth grade boys from our teacher community:
Diary of a Wimpy Kid, Captain Underpants, I Survived, Goosebumps, How to Train Your Dragon, 39 Clues, My Weird School, The One and Only Ivan, The Genius Files, Big Nate, Timmy Failure, Tales of a Fourth Grade Nothing, Jedi Academy, Chomp, Sideways Stories, Knights of the Lunch Table, The Spiderwick Chronicles
46. And their favorite websites for fourth grade:
Freeology, Read Write Think, Discovery Education, NewsELA, Teacher's Notebook, Wonderopolis, Education.com, Rubistar, Worksheet Works, Read Works, Intervention Central, SEN Teacher, K-5 Math Teaching Resources, Starfall, Tinsnips, Laura Candler, Touch Math, Super Teacher Worksheets, EdMentum, Edutopia
47. Teach how to use context clues as a skill to bridge into larger close reading skills.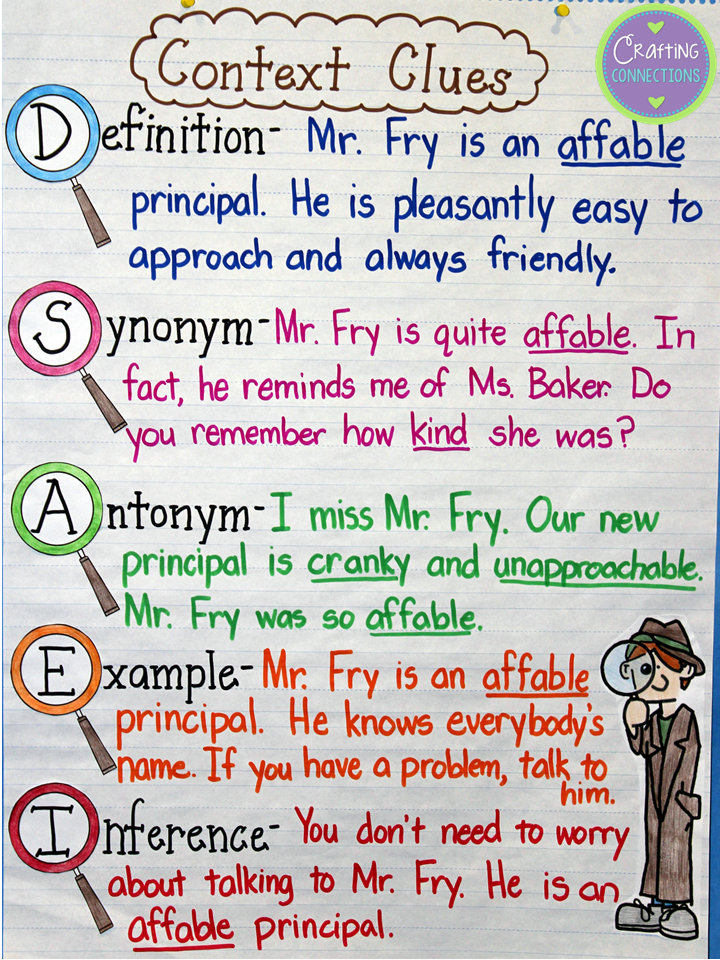 We love this anchor chart.
48. Reward positive classroom behavior with fun coupons.
You can print a set here for free.
49. Have students double check their writing work before turning it in.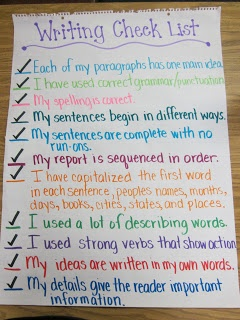 Get them writing "fourth grade sentences" and taking ownership over their work with this anchor chart.
50. Keep track of where your fourth graders are without the aggravating sign-in/sign out sheets.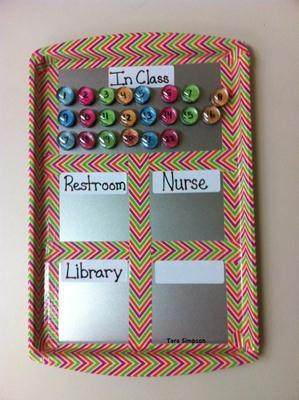 These little magnets make managing your class easy. Add in any typical places your kiddies may go on a given day.