Shakers Music Definition Essay
Music in the Civil Rights Movement
African American spirituals, gospel, and folk music all played an important role in the Civil Rights Movement. Singers and musicians collaborated with ethnomusicologists and song collectors to disseminate songs to activists, both at large meetings and through publications. They sang these songs for multiple purposes: to motivate them through long marches, for psychological strength against harassment and brutality, and sometimes to simply pass the time when waiting for something to happen.
In their interview with the Civil Rights History Project, folksingers Guy and Candie Carawan sing the songs "Tree of Life," "Eyes on the Prize," and "We Shall Overcome." The Carawans worked at the Highlander Folk School in Tennessee, where activists from around the country came to be trained in nonviolent philosophy and learned the songs of the movement. She explains, "There were songs for every mood.  You know, there were the very jubilant songs.  There were the very sad songs when someone was killed.  You know, there were the songs you used at parties.  There was all the humor where you picked fun at people, the satire."
Activist and folk singer Pete Seeger also remembers how important music was to the Civil Rights Movement in his interview. He performed many concerts to raise money for civil rights organizations, and helped spread the song "We Shall Overcome" to civil rights workers  at the Highlander Folk School. In 1964 he came to Jackson, Mississippi, to support the Student Nonviolent Coordinating Committee's Mississippi Freedom Summer Project. While he was there, three civil rights workers, Andrew Goodman, Michael Schwerner, and James Chaney went missing. He remembers, "I was in singing to about two hundred people in a church when they gave me a piece of paper that said, 'They've found the bodies of Goodman, Schwerner, and Chaney.'  And I made this announcement.  There was no shouting.  There was no anger.  I saw lips moving in prayer.  And I think I sang this song that Fred Hellerman made up, 'O healing river, send down your waters.  Send down your waters upon this land' … It's a beautiful song."
Jamila Jones grew up in Alabama and sang professionally as a teenager with the Montgomery Gospel Trio and the Harambee Singers. In 1958, she came to the Highlander Folk School for nonviolent activist training. As Jones recalls in her interview, Highlander was raided by the police, who shut off all the lights in the building. She found the strength to sing out into the darkness, adding a new verse, "We are not afraid," to the song, "We Shall Overcome." Jones explains, "And we got louder and louder with singing that verse, until one of the policemen came and he said to me, "If you have to sing," and he was actually shaking, "do you have to sing so loud?"  And I could not believe it.  Here these people had all the guns, the billy clubs, the power, we thought. And he was asking me, with a shake, if I would not sing so loud.  And it was that time that I really understood the power of our music."
For more about music in the Civil Rights Movement, read these two Folklife Today blog posts on "Tracing the Long Journey of "We Shall Overcome" and "Photographs of the Southern Freedom Movement in the Alan Lomax Collection."
Making homemade musical instruments is such a fun activity, kids love getting involved with decorating them and then are so delighted to use them afterwards to make some music. But after many years of teaching music to small children there have been quite a few times when the contents of the shakers have exploded across the floor and we've been left finding those little grains of rice and lentils for months afterwards!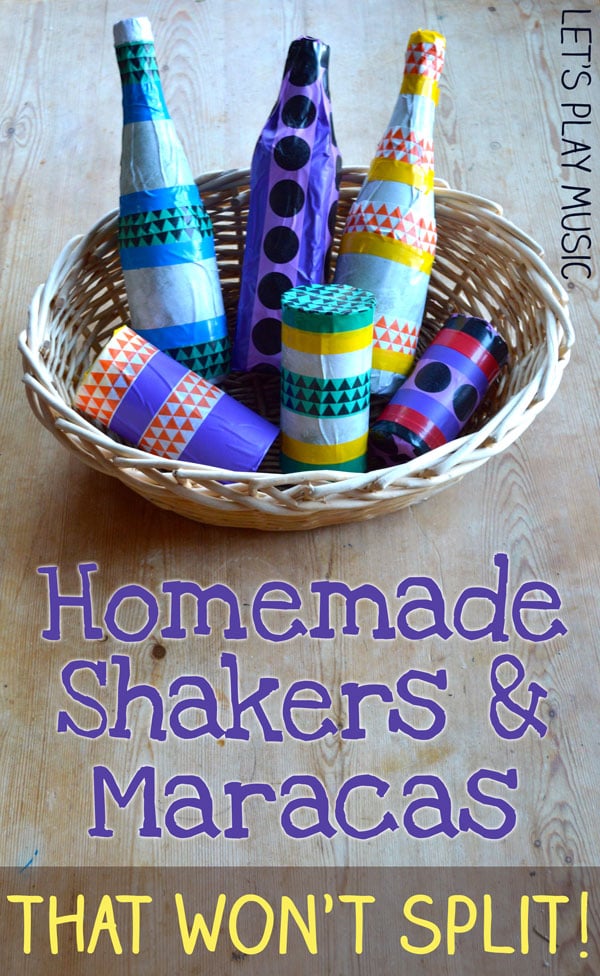 Making your own maracas or shakers would seem to be a pretty obvious task but I wanted to share some practical advice when it comes to choosing the right materials and putting them together so that you can make instruments that make a good sound and ones that can take a bit of a bashing too!  So here is how to make DIY shakers that won't split!
[easy_responsive_adsense publisher_id=8488435643016457 ad1=2137495450:300×250 ad2=3614228653:180×150 wrapper_id=post-Ad]
1. First choose containers that are made of good thick materials. There are some ideas below, don't use the sort of plastic bottles that scrunch up easily or ones that would be difficult for little hands to hold. These Badoit bottles are ideal, because they are not only pretty sturdy, but the have nice long necks to act as handles. Look out for cylindrical containers that might have a tin bottom, like the cocoa pot or tubular biscuit tins, these will be strong and make a really good percussive sound too.

2. The sound of the shaker will depend on what you put inside, so vary the contents. You can use sand and rice for a soft effect and lentils, or bigger dried peas and beans for a louder sound. Don't put too much in, it's good to have a bit of space for it to shake about in.  Make sure that you then seal the containers with duck tape securely.
3. Use sticky-back contact paper to cover the whole of the outside of the shaker, this is your insurance against splitting (you could also use duck tape) Be particularly careful to make sure the ends are well sealed.
4. Once they are covered you can decorate with stickers, coloured tapes or marker pens however you like.
These shakers should stand up to plenty of enthusiastic music making!
It's such a good idea to make instruments from recycled materials, why throw things away when you can re-invent them, and give them a new life?  Take a look at our DIY instrument board on Pinterest for lots more musical inspiration. This activity is also an excellent way to teach children about living responsibly and protecting the environment, why not check out our post and song for Earth Day to explore the theme further.
If you enjoyed this post, come and join us on Facebook, Pinterest and Google + or subscribe to our free bi-weekly newsletter for many more musical ideas!
Follow Sara @ Let's Play Music's board DIY Instruments on Pinterest.


Stay up to date with Let's Play Music!
Receive new post notifications and updates from Let's Play Music straight in your inbox!
Almost there! Just click on the confirmation email that has been sent to your inbox.
Filed Under: 5+, Craft Activities, Homemade Musical Instruments, Musical Activities For...Tagged With: Maracas, Shakers