Homework Organizers For Binders
Classroom organization is a key component to any successful classroom.  As teachers, we want to make sure our students have a place for their homework, classwork, supplies, textbooks, notebooks, and anything else they will use in our classroom. Student Binders are the perfect way to set up students for a successful school year and teach them the organizational skills they will need for life.  In this article, I'll show you how I set up student binders and what I include in them to keep students organized all year!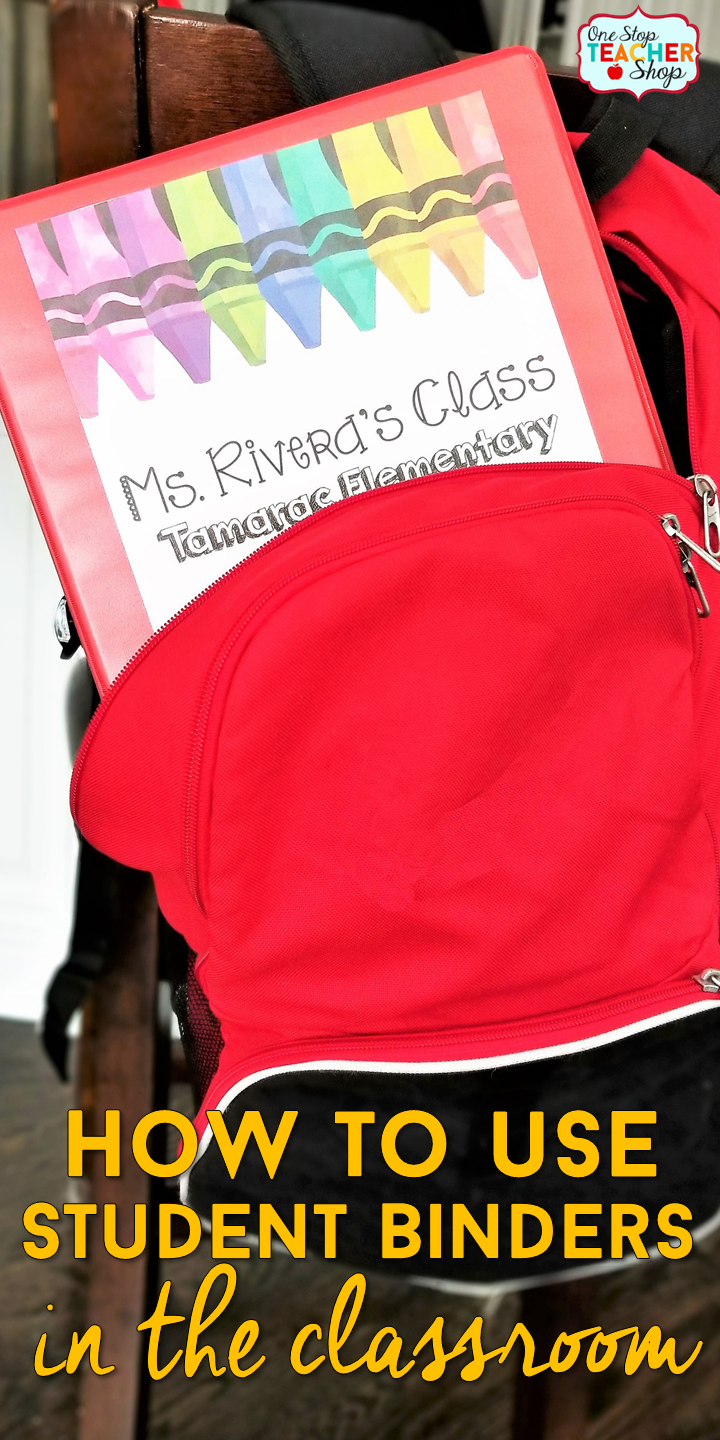 It's all about the Binder!
To begin with, be sure to add a binder to your student supply lists.  Make sure you add a special note for students to supply a "Heavy-Duty" binder that is at least 1.5 inches wide.  Obviously, any binder can work, but I have found that this type of binder is the most durable binder for students.   If getting a binder from each student just isn't an option, you could use 3-prong folders and use one for each section.  This isn't as ideal as a binder (keeping everything all in one place) but can do the job if necessary.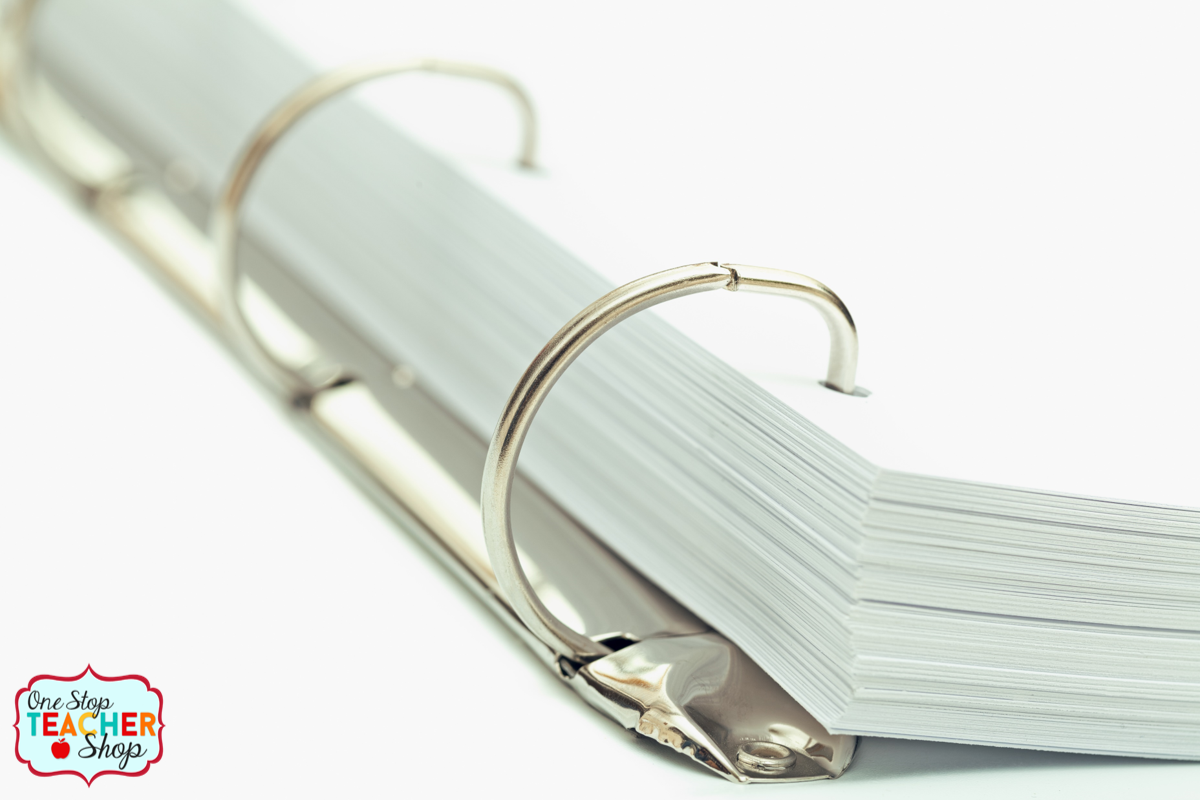 Make Student Binders Special!
My favorite part about using student binders is being able to create a fun cover for my students.  If you like to have themes in your class each year, you could create a special theme cover.  Not using a theme?  You may want to use your school colors or something your students are into. Here are a few fun covers for some inspiration.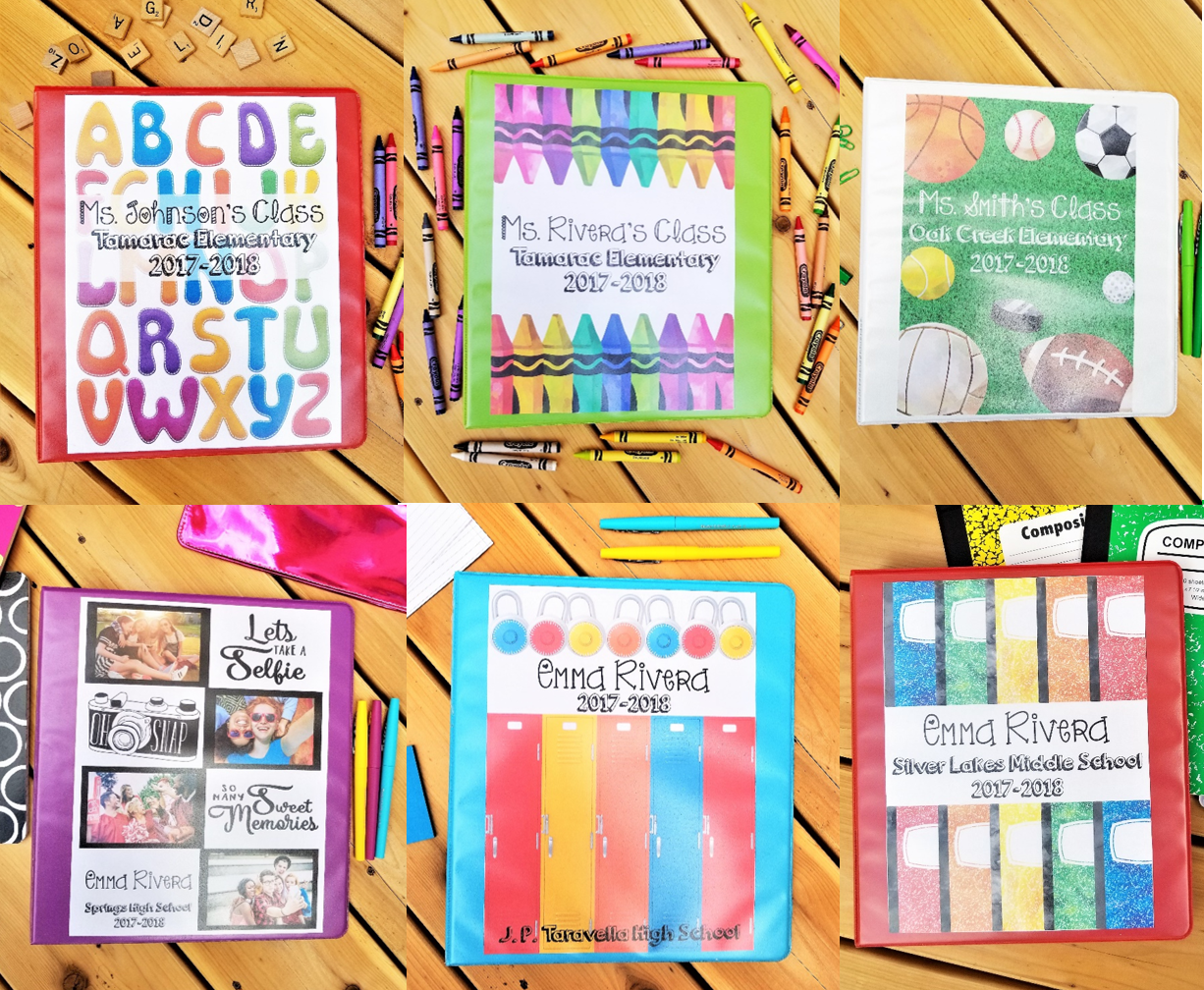 Think Dividers
Consider using dividers if you are looking to get the most out of your student binders.  I prefer to have a few key sections in my student binders. 1. Weekly Agenda & Calendars 2. Homework 3. Student Data & Progress Reports 4. Class Information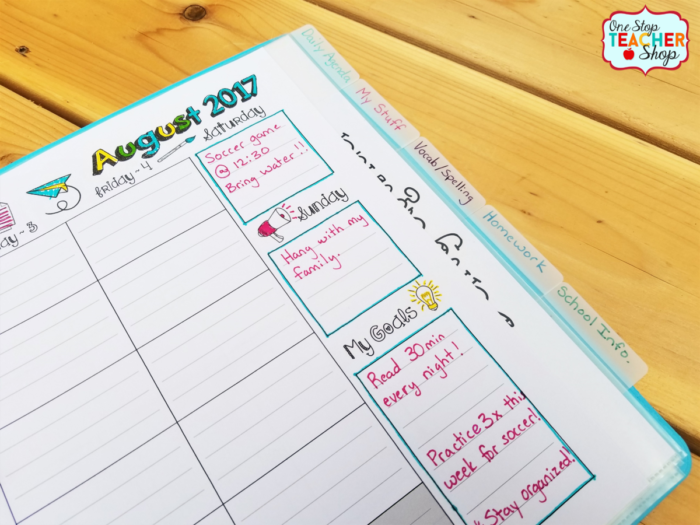 You can have any sections you choose, but these have worked best for me.  Continue reading for more explanation about each section.
A Daily Student Agenda
A Daily Student Agenda is KEY to keeping students organized, teaching life skills, and communicating with parents.  At the end of each day, students write down important notes for the day and homework they are expected to complete that night.  If I need to write a note home to a parent, this is where is goes.  In addition, parents enjoy having a consistent place to reference for notes and things that need to be completed.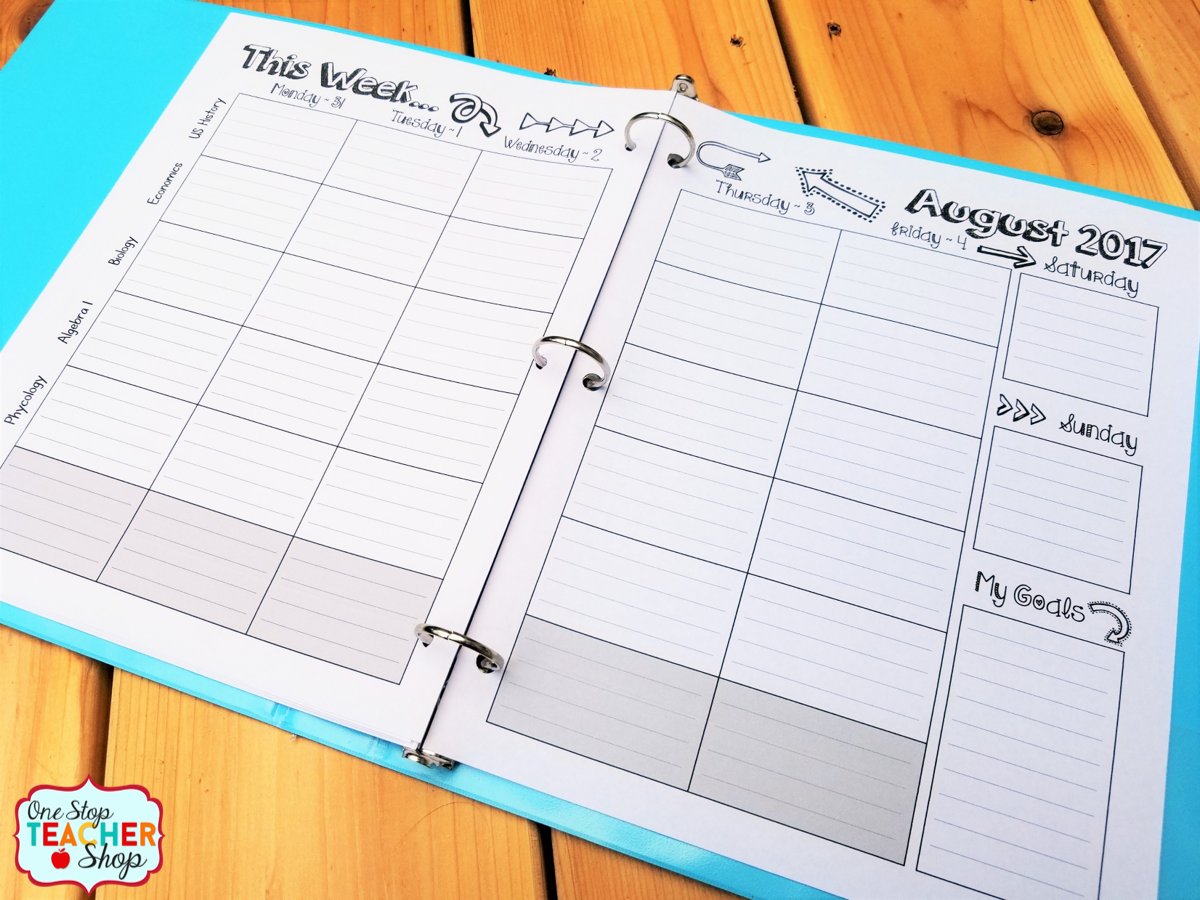 This agenda section is also a great way to keep a record of student progress, behavior concerns, and homework completion.  All notes are in one place if ever needed for data collecting.
Lots of Calendars
As adults, we use calendars all the time to keep track of our schedule.  Using calendars in your student binders will teach students this life skill and the importance of looking/planning ahead.   Also, I love adding important school dates and events to this calendar at the beginning of the school year.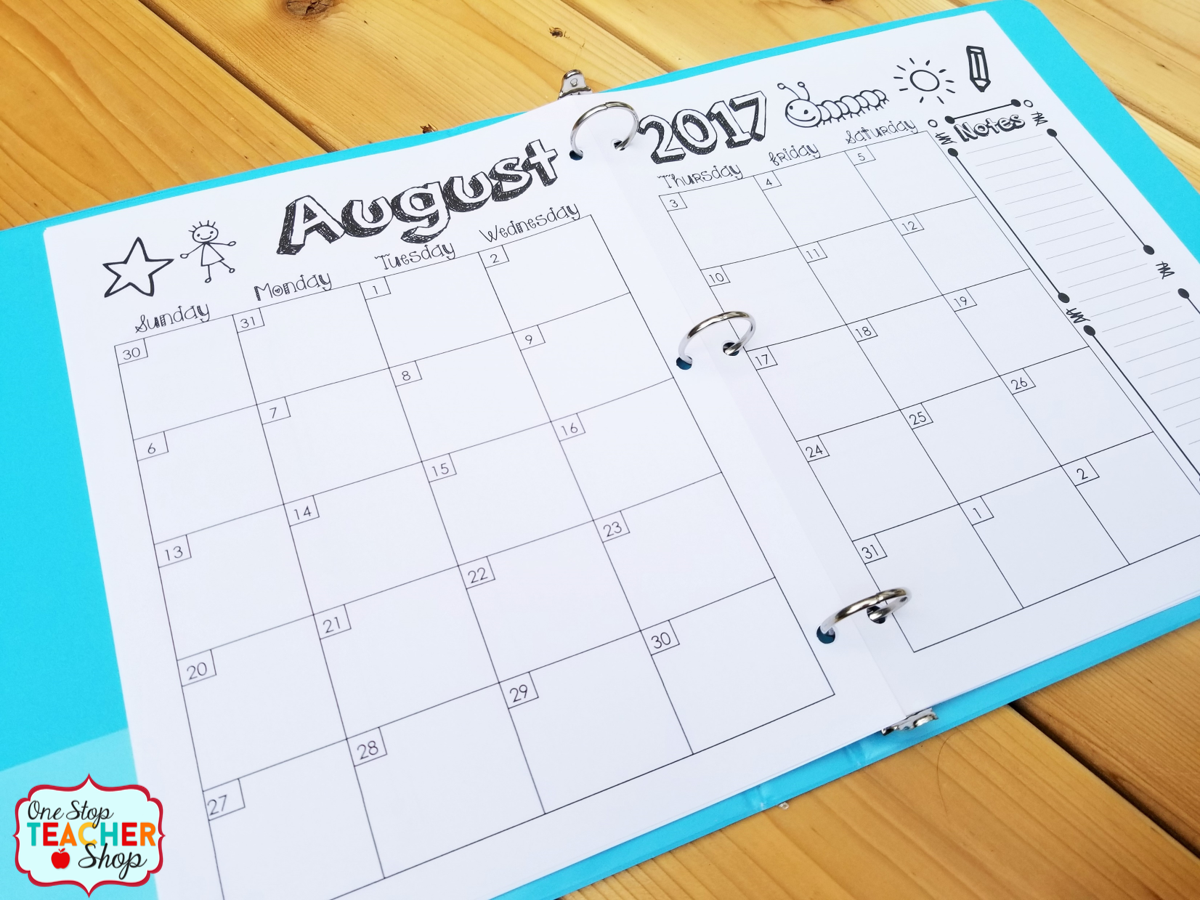 A Place for Homework
It is ideal to keep homework all in one place.  Homework is more likely to be completed and less likely to go missing.  Having a homework section in your student binders gives students a simple way to keep all of their nightly homework together.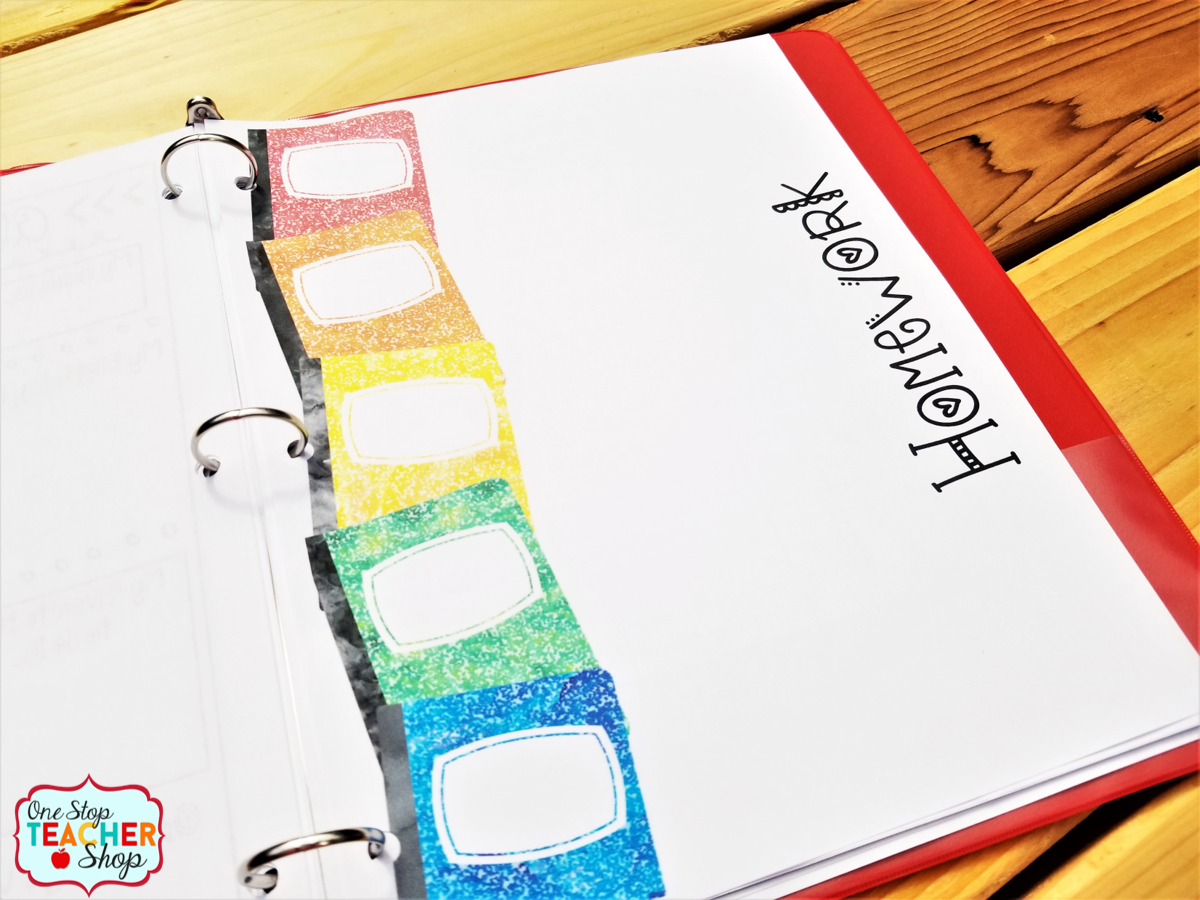 Progress Reports
I regularly send home student progress reports in order to keep parents informed throughout the school year.  These reports update parents on recent grades, progress, and any behavior concerns I may have at the time.  A copy of the progress reports is kept in each student binder for parents to reference as the quarter/semester progresses.  At the end of each quarter, I remove the progress reports and file them in my student portfolios.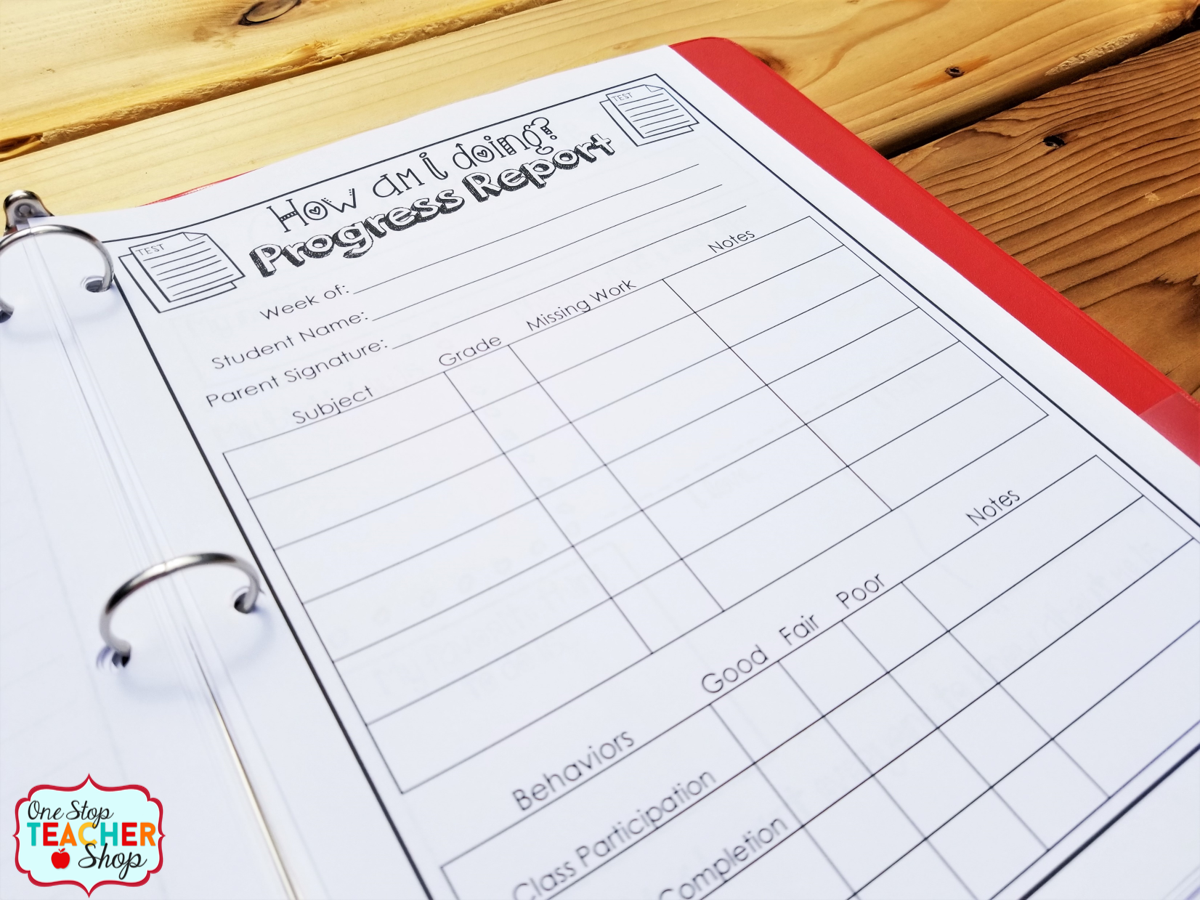 Data Tracking
Requiring students to keep track of their own progress can have many positive effects in your classroom.  By having students graph and/or record their grades, they are gaining a better understanding of how they are actually doing in school.  Students should not be surprised if their grade is low and are more likely to take ownership and work to improve their grades when they see them in a concrete format.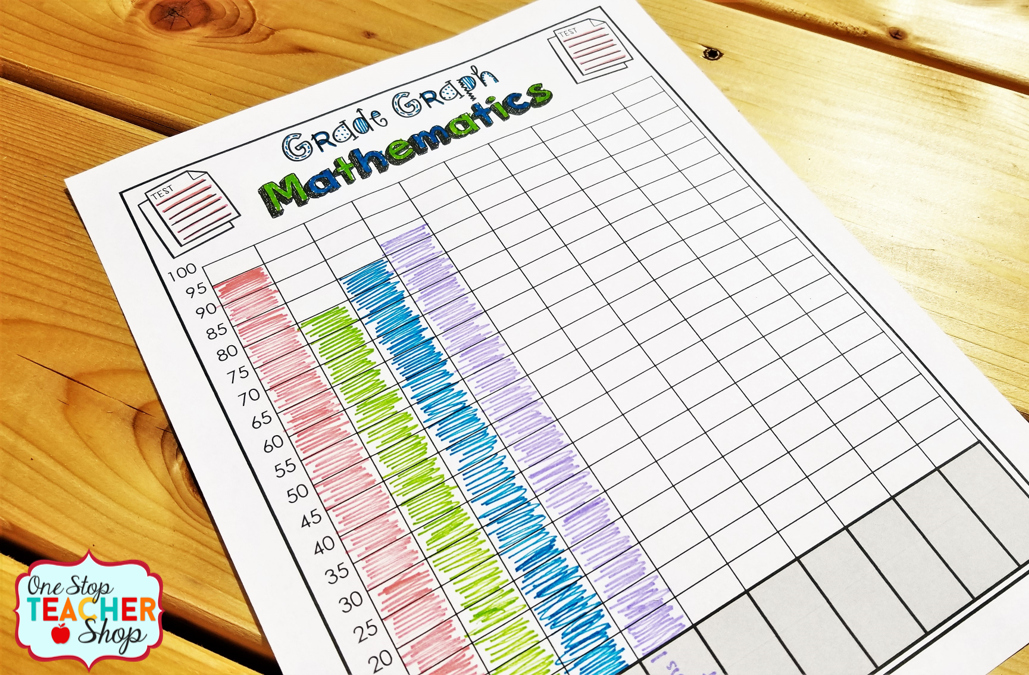 Other Important Papers
It is important to have a section that contains anything and everything you would like your students to keep in their student binder. Some of these papers may be to help the student organize themselves and some might contain important class policies or procedures.  Some of the information I like to include is a class schedule, contact information form, homework expectations, school policies, etc.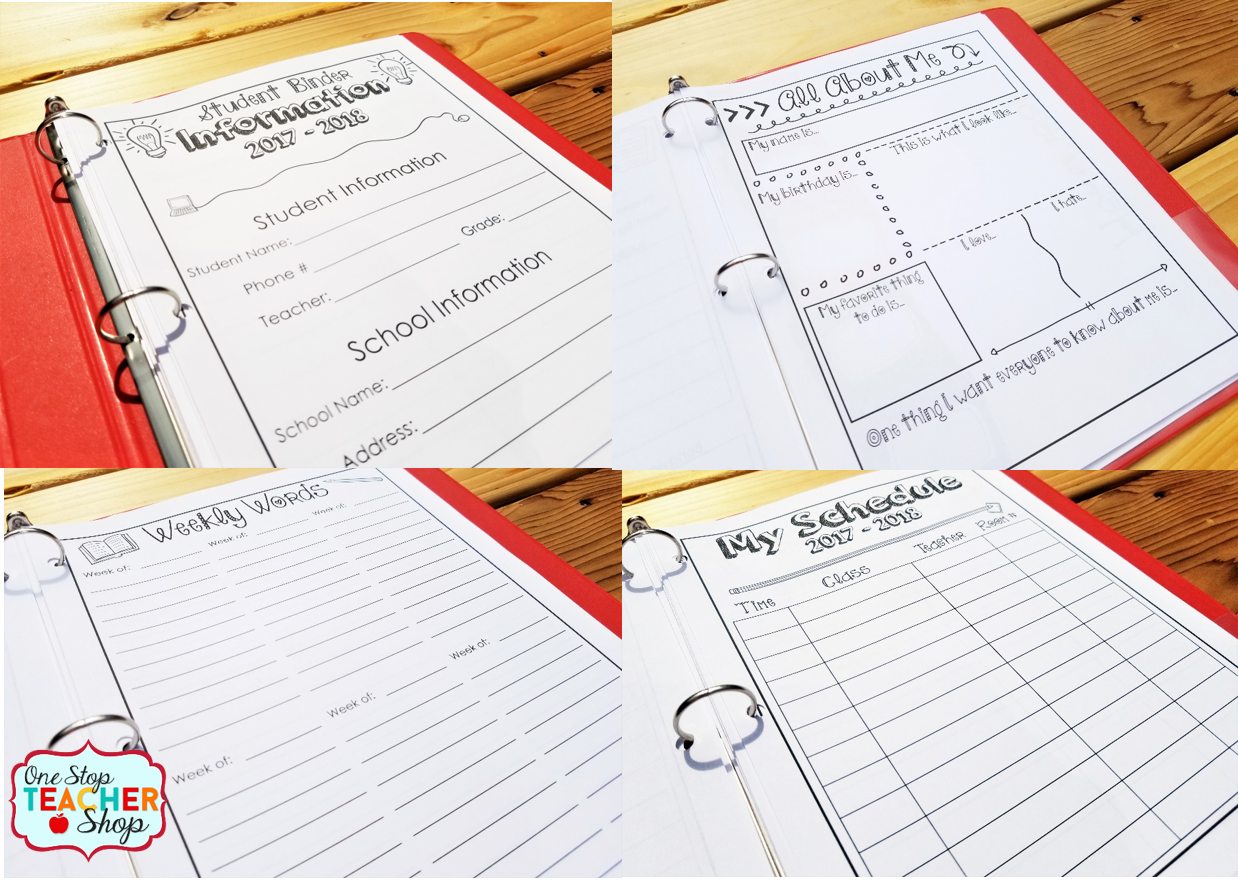 Let Them Personalize it!
Students love to make things their own! Your student binders should be no exception.  Give them the opportunity to draw pictures or color on their agenda pages, as long as it doesn't interfere with the actual agenda.   I love to use a "doodle" style agenda and let students color in the pictures each week as a fun activity.  This is a great way to get students excited about their binders and they are more likely to take care of them throughout the school year.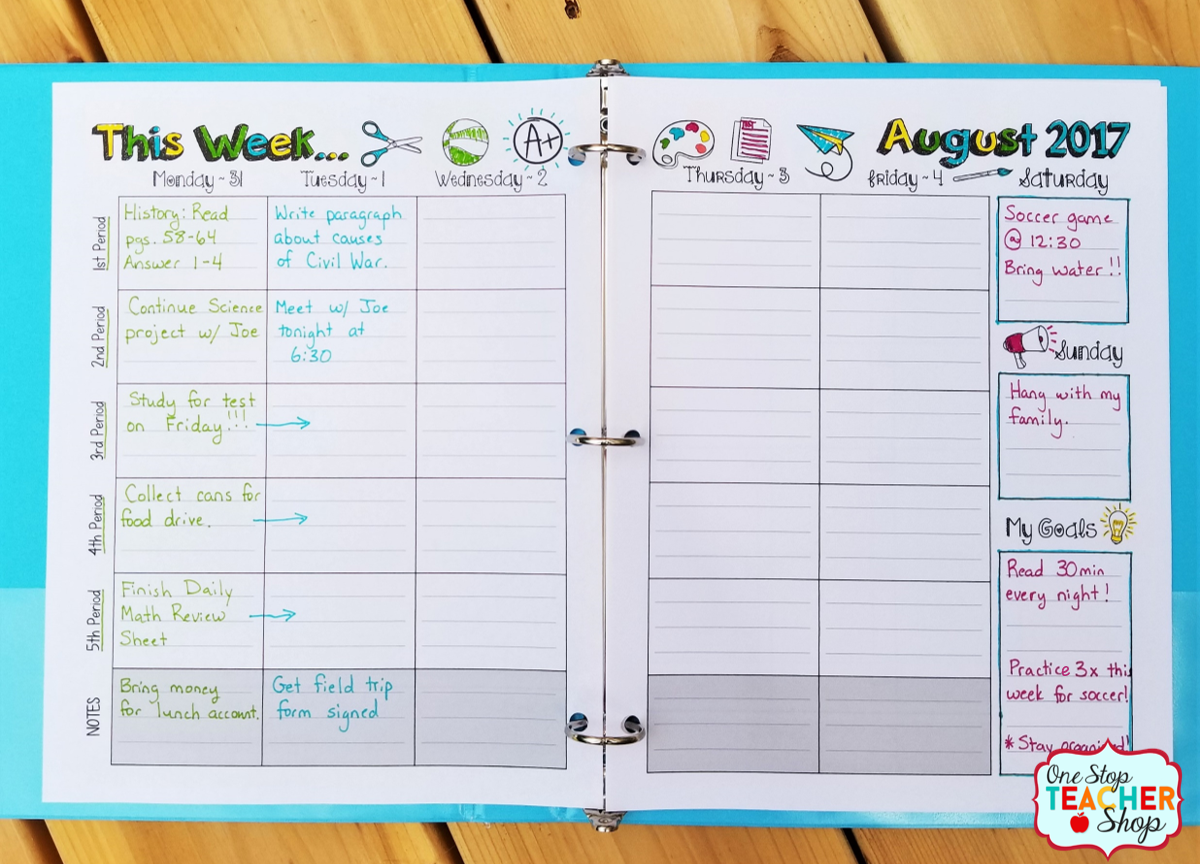 If you are searching for the perfect student binder, check out my One Stop Student Binder! It has everything I mentioned above and MORE. The best part, I offer FREE updates for life! Yep, you get to return every single year and download the binder again for free.
Be sure to check out my other blog post about my One Stop Teacher Binder!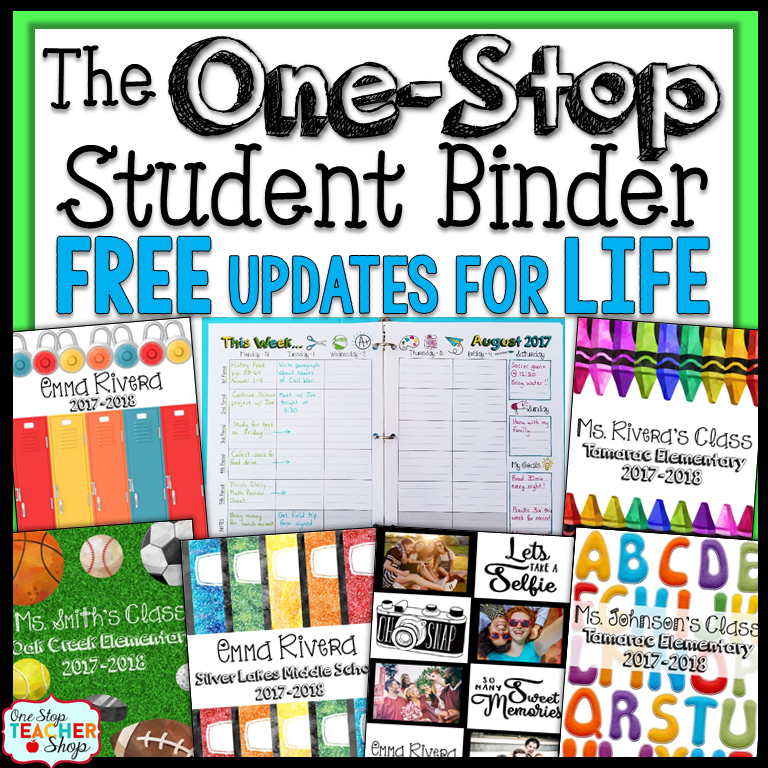 Filed Under: Back to School, Classroom Management, DIY for the Classroom, OrganizationTagged With: Back to School, Classroom Management, Classroom Organization, Organizational Binders
Student binder printables can help students keep all of their important school and class information organized, setting them up for success from the moment they head back to school!
The student binder printables are baaaaaaccccckkkk! 🙂 Over the past few months, one of the most common questions I have received is, "When are you going to update the student binder?!" Well, I'm thrilled to say that it is here! Since last year's binder was such a hit, I didn't change much on the original version, but I did make a few little additions that I think will be helpful AND I'm offering a second color scheme that is perfect for boys (or for girls who prefer blue to pink)!
I've had a lot of requests for printables for students over the years, so a few years ago I finally took the time to create a whole binder full, and now you can have some bonus printables to add to this year's binder! (And if you're not a student, there are still some of these that you could use too, so don't run off just yet! 😉 )
Student Binder Supplies
This post contains affiliate links. For more information, see my disclosures here.
Before we jump into the binder tour, here are a few of the items you'll need to put together your student binder:
Student Binder Tour
Click here to subscribe to the Abby Organizes YouTube channel!
The first thing that any binder needs to have is a pretty cover, and this binder is no exception! I made it bright and colorful with plenty of room for the owner's name and/or contact information. I printed my cover out on white card stock just to make it a little sturdier.
Next, I was sure to include a class schedule. You can keep track of what class is happening when, where, and with whom with this simple printable!
Planning
I then divided the binder into a few sections to keep everything neat and organized. The first section is planning, of course!
You know I never create a binder without including a goals page! I am kind of obsessive about goals because I really think that they work! Whether you're a student or not, it never hurts to write out a few of the things you'd like to accomplish over the next year. I've also left room to write out some action steps you can take to get yourself closer to your goals.
Everyone– students and otherwise– can always use a monthly calendar. This one includes July 2017-December 2018 for over a full year of pretty planning! And if you're thinking even further ahead than that, I've included undated calendar pages so that you can create a calendar for any year you want!
Another printable that everyone could use is this two-page weekly planner. Each day is broken down by hour to make it easy to use time blocking or just keep a close eye on your schedule. There is even room at the bottom to set some goals for the week and make notes.
If you want to go even more in-depth, you can use the daily planning printable, which has even more room to schedule your time, make note of people you need to contact, and keep track of miscellaneous items in the notes section.
The final printable in the "planning" section is a daily routines printable. Sometimes it's helpful to clarify which items need to happen each morning (like packing a lunch or filling your backpack), afternoon (like finishing homework or doing chores), and evening (like picking out clothes for the next day or planning the next day's schedule). This little printable can help you do all of those things!
Now, everyone probably won't need all of these different printables for planning their time, but I wanted to make sure I provided a bunch of different options so each person could choose the printable or printables that would work best for them!
Tracking
There are sooooooo many details to keep track of when you're in school, and the next section of the binder is devoted to just that.
I know I was always overwhelmed on the first day of class when I would get my syllabus from each teacher and immediately be bombarded by assignments and test dates. The next two printables– an assignment schedule and an exam schedule– will help organize those things so you never miss a deadline.
If there is one thing I'm thanking myself for as an adult, it is that I was an avid reader from an early age. I know I'm a former English teacher, so this is expected from me, but reading is so, so, so important! This reading log makes it easy to keep track of your minutes/pages read.
Subject Sections
I divided up the next section of the binder into the different subject areas and included the same few printables in each subject tab.
First, I included a grade tracker. It's never fun to get to the end of the quarter or semester and be surprised by your grade, so this printable will help you keep track of all grades  along the way so you know exactly what to expect. There is a column to list each grade, and then one to keep a running total on the far right. Print one off for each class and get tracking!
Next I added a simple-but-pretty notes page so you can keep all of your class notes nice and organized. I would print out a bunch of these at a time to have them handy any time I need to take notes in class, make a list, or just get some thoughts down on paper!
My very last printable in each subject section is a project planner. All of those school projects have so many little details, and this printable is the perfect place to keep track of them all! (Plus it's cute, which always helps! 😉 )
A Second Color Scheme for the Student Binder
Last year I had several requests from moms of boys for binder printables that weren't quite so pink! As a fellow boy mom myself, I completely understood the need for more options for boys, so this year I created a second color scheme option that would work for boys or for girls who just prefer blue to pink!
You can get both full sets of binder printables sent straight to your inbox via the button below!
The student binder printables are simple, but when used consistently, they can truly help make your school year (and your life!) so much easier!
Happy organizing, friends!
The post above was updated on July 25, 2017. The photos below are from an older version of the post.
This post contains affiliate links. For more information, see my disclosures here.
Filed Under: Favorite Posts, Organization, ProductivityTagged With: assignments, back to school, best of printables, binder, college, free printables, grades, organization, organizing, printables, school, student binder